The big match on 28 April , Pakorn Sandchai P.K. Muay Thai gym fight with Singdam again after have a list but they did not meet because Singdam withdraw from this fight. Pakorn wait and training for this fight. He annouce that not fear and ready to fight with senior boxer fully in Lumpini Champions Kregkrai on the opening match was organized by the "Mr.Nao" Wachirattanawong. This is the big match in history.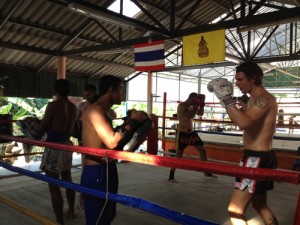 Have a chance to meet Pakorn PK Sangchai Muay Thai gym. He is confident to fight with Singdam Kiat Mu 9, a senior top boxer on the Lightweight Championship Lumpini on RamInTra stadium (Lumpini RamInTra) in the opening match was organized by the "Mr.Nao" Wachirattanawong on April 28. They will meet in 132 pounds match.
Pakorn reveals this body is very good. His training boxer at gym is very skilled boxer such as Sandchai P.K.Sandchai Muay Thai Gym, Sangmanee S.Teanpor. All of them had a fight at 28 February. He said not fear about the fight with Songdam althought his body is unfavorable. He is confidence to overcome and get the championship belt.
 Steps to become a Muay Thai expert
Muay Thai is a national game of Thailand today, but it was not a game when it was originated in the ancient times. It was originated to fight against the opposite army in the fight, but nowadays, it has been used as a national game, self-defend technique, and a fight art, which is being taught to Thai army as well. Learning this art gives you several benefits, such as self-protection, a chance of entry in Thai's games, and a chance of entry in Thai army, because if you already know Muay Thai then you may be able to pass all physical entrance tests, as it makes you stronger and harder.
Here are the steps to become a Muay Thai Expert:
Make a tough decision – If you want to learn Muay Thai then the very first step is to make a tough decision because learning this fight art is completely upon you, your dedication, and then the supervision of expert. Remember you will need a lot of practise, hard work, and workout.  http://mommysmemorandum.com/people-muay-thai-training-thailand/ . If you are not strong enough to hold on the pressure then you have to be strong because there will be workout for hours even before you are being taught Muay Thai.
Join a Camp in Thailand – Once you are setup with your mind then you have to join a training camp where experts from Muay Thai take training classes. Experts from Muay Thai is recommended because an expert know the loopholes, positives, and negatives of the art. He will be able to guide you what to be done and how to be done. He can only tell you how much workout is required, right time to workout, and when to start practising Muay Thai & http://tatess.blogspot.com/2014/04/travel-to-thailand-and-experience.html . He can only tell you which strike does what and how you be stronger enough to beat your opponent in one strike.
Practice and only Practice: Success mantra for Muay Thai is Practice. More you practice more professional you will be. As there is no parameter of judgement except the fight results, you will have to prove you each time you fight with someone using Muay Thai.