Nin Donmeung has quaranteed for the training of King Kerttichareonchai Muay Thai camp whether to have his perfect body condition. However, if he has his worse body condition , he can't be allowed  King to fight at the Muay Thai stadium definitely  including to inviting the couple one of Taladkwag Saksamrit or King to prepare himself fully to grasp the champion at Morchit Chedsee with high chance.  Besides, with his good style boxing of him , he might be the champion of the game surely.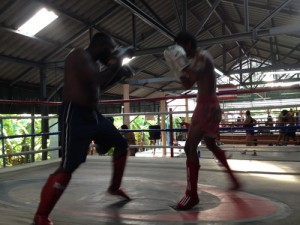 After Chun Kertphet has brought King Kerttichareonchai to fight with Taladkwag Saksamrit as the second couple one of Suek Muai Thai Chedsee on this Sunday of Morchit on channel 7 , lately Nindonmueng or one of the teamwork for the big boxing camp in Satoon province has revealed that for this match King has been practicing himself with 100 percent , so he might be able to defeat Taladkwag by fighting with funniness in terms of grasping the prize definitely.
Nin said that in this moment he would like Taladkwag to practice himself fully by counting as the sports game. Thus, Taladkwag might fight with amusement to be the champion in order for the Muay Thai fans to feel comfortably in the match.