Toi Huaipong or the professional of East Kertphet has accepted that now   the body condition of Chokphreecha SitnayokThaweeptapong isn't good as the past. However, with his good practicing the way to fight with Sing Pharanchai as   the second couple boxer of Suek Muai Thai Ched See on this Sunday 20th June 2015 might be in the excellent way to become the winner.
For the second couple boxer of Suek Muai Thai Ched See , it has seen that Chokphreecha Sitnayokthaweepphong might fight with Sing Pharanchai as the strange couple one who has never fought with each other before. Thus, this both one all have their good performance to fight funnily to make impression to the Muay Thai fans in Thailnad of Muai Thai Ched See too.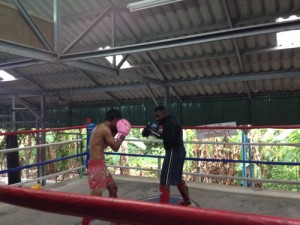 Toi Huaipong revealed that whoever is disappointed for Lomhuan on last Sunday shouldn't be worried to cheer up Chokphreecha in this week because of his good training and his good experience. Then, Lomhuan might not defeat him easily surely.
For Suek Muai Thai Ched See , there will be the master couple boxer to show of the greatness ; namely, Jamesak Sakburiram to fight with Sakulchai Weronafarm in 124 pounds following by Abbas Luaksuan or the big severe boxer to fight with Satanfah S. Bunkrong as well as the first couple boxer or Bunnam Kertchareonchai to fight with Date Paemeanburi.